Guerrilla marketing has lots of benefits for any forward-thinking brand. If done effectively it has the potential to create  a huge amount of buzz. Brand awareness is the key to success – if a guerrilla stunt is considered and relevant, there's really no limit to what it can do for drawing attention to your brand.
Captivating an audience can be one of the toughest challenges of all; guerrilla marketing can dramatically cut through passive ads, stimulating an otherwise desensitised audience. A really good guerrilla stunt can deliver a message quickly that may have taken a while to get across using conventional methods.
Many brands have attempted to jump on the bandwagon and failed with some seriously shocking results. The odd guerrilla gem thrown into the mix has recently proved how effective this marketing tactic can be. If you've seen giant, random, objects dotted around the city, you've more than likely been a witness to this kind of stunt. Big brands are using this strategy more than ever and it's becoming an essential part of the marketing mix. We only wish that smaller businesses would have more confidence in using this tactic.
With that in mind, we now look at five fantastic examples of big brands who got their guerrilla marketing spot on:
Ikea
King of ad campaigns (and compact furniture) Ikea certainly doesn't disappoint when it comes to their guerrilla stunts. Their product lines make this a fairly easy job as furniture can be adapted to the campaign's needs.
In the example below Ikea once again stunned their audience with a 30 foot rock climbing installation in France. The structure incorporated furniture from their latest range, which looked pretty impressive horizontally.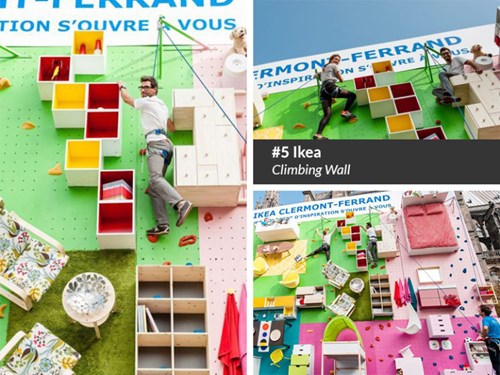 Unicef
Timing can make a guerrilla marketing stunt much more effective and this certainly happened for Unicef. During World Water Week, the charity dropped a dirty water vending machine in the middle of Manhattan. The timing was perfect and the message was hard-hitting and powerful.
Hardly anyone knows that water-related diseases are the second biggest cause of children's deaths in the world, and it was Unicef's mission to successfully communicate this message. As well as the
bottled water clearly being dirty, each of them each had a disease which is easily contracted through contaminated water written on the label.
Every dollar raised from the dirty water vending machine then went towards clean drinking water for children – a totally ethical and inspirational form of guerrilla marketing.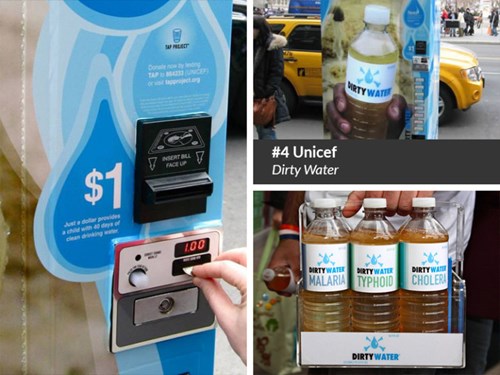 Coca Cola
Coca-Cola's always had a super cool approach to big ad campaigns and stunts. Their pop-up park campaign was no different, it definitely attracted lots of attention.
A Coca-Cola truck rolled out a Coke-shaped piece of grass in the middle of a busy city centre. Passers-by were then invited to kick back, take off their shoes and enjoy an ice-cold Coca- Cola refreshment on the grass – it's really great when brands share the love with their audience.

Nike
There's no denying that Nike is king when it comes to marketing in general but it's the guerrilla stunts where they really seem to excel. In 2013, Nike came crashing in with a 20-ft football, lodged into the side of buildings and smashing into the roof of fake cars. It certainly created brand awareness and got people talking. The giant footballs were accompanied by billboards, carefully placed to look as real as possible.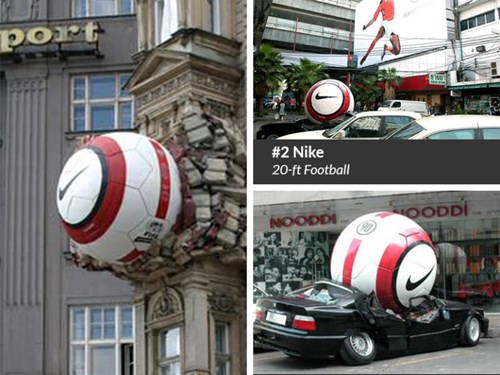 Jeep
One of our all-time favourite guerrilla campaigns has to be Jeep's car parking space stunt. It's so simple yet really effective.
Jeep put car parking spaces in audacious places to highlight the vehicles' durability – the parking spaces were situated over areas that would normally be considered a no-parking zone. The stunt lasted only a few weeks in 2008 but it's definitely something people still talk about today. We love the humour and thought behind this idea.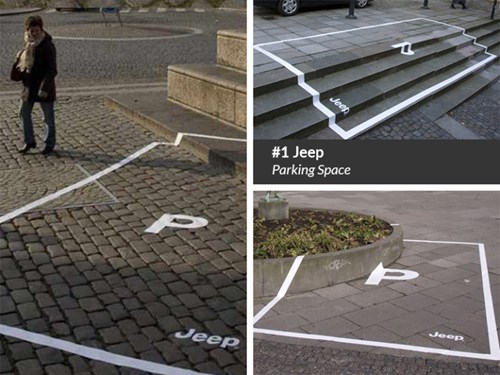 Have you seen a campaign that tops this list? Let us know in the comments.