Preparing for your wedding day is a wonderful and exciting time, but it's no big secret that it's also an extremely stressful experience too. Especially when it comes to crunching the numbers. However, if you're savvy enough, we believe that you can plan your dream wedding even with the smallest of budgets.
Wedding invitations are something which most couples will spend a lot of money on, and we completely understand why. Your invites will set the whole tone of your wedding, so it's important that you get them right. Nevertheless, that doesn't mean that you need to spend an absolute fortune on them.
If you're keen to create beautiful and extraordinary wedding invitations, which are also low in cost, then keep reading to find out 10 inexpensive and yet unique ways to do that.
1. Vinyl CD Wedding Invites
An unusual and creative way to invite guests to your big day is to make retro, vinyl CD invites. They would be straightforward enough to handmake, low-cost and even an enjoyable activity to do with kids.
All you would need to make these is a selection of blank, vinyl CD records and cardboard CD cases, then you can write all the details of your wedding either on the front of the CD, pop it on a square flyer to slip into the case or even directly onto the record.
You could even attach separate wedding invitations onto the front of the record if you wished. Save the date invites would fit perfectly on the front of a vinyl record and would coincide with the authentic and vintage style of the CD invites.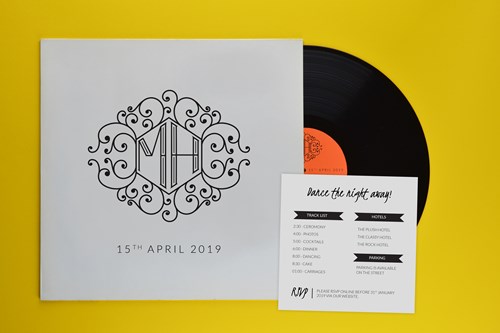 2. Tickets Format Invites
If you're seeking a quirky and fun way to invite guests to your wedding, then a ticket themed invite would work perfectly. It could be anything from an old-fashioned cinema ticket, a plane ticket to even a circus themed ticket.
Not only is this a more creative way to invite guests to your big day but it could also be a relatively low-cost method too. You could make these tickets yourself if you wanted to keep costs down or create a template and have them printed in the exact theme you'd like! A5 Slim flyers are the perfect solution for an authentic ticket.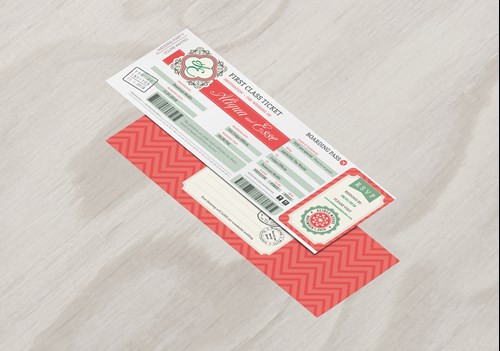 3. Paper Aeroplane Invites
Planning a travel themed wedding? Or maybe you just desire a more casual way to let your guests know which date to save?
Either way, a paper aeroplane invite is cool, hip and ideal if you want something a little less formal and more contemporary than a standard wedding invite.
A4 or A3 leaflets are the ideal sizes to make your paper aeroplane invites and consider how they will be delivered – will you hand deliver? For a touch of personalisation, you could hand deliver your aeroplane invites, (probably only appropriate if you have a small guest list and you don't mind travelling).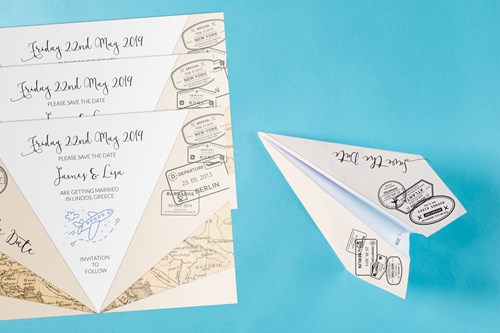 4. Puzzle Wedding Invites
Let your guests know that you've found the missing piece of your puzzle by giving them the fun of putting their own puzzle together, which will result in being your wedding invitation.
Again, although this is an unusual idea it doesn't have to come at a huge cost. If you want to go ahead with the jigsaw theme then you could put your invite on pieces of thick paper (350gsm is a sturdy option) which all fit together to say your wedding invite.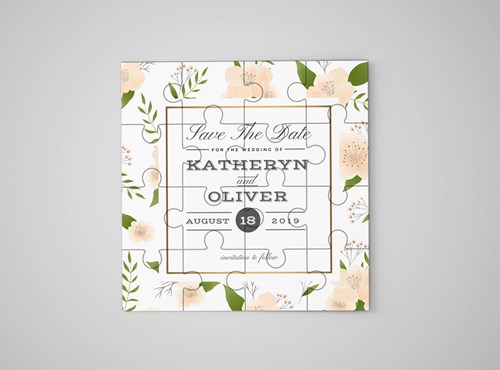 5. Magnet Wedding Invites
Give your wedding guests a keepsake with a magnet wedding invite, plus, in that way, they can't have an excuse for forgetting your wedding date…
Simply buy your magnets in bulk and create a set of stickers with all your information or even a profile picture of you and your SO for a reminder of your big day your guest can place on their fridge.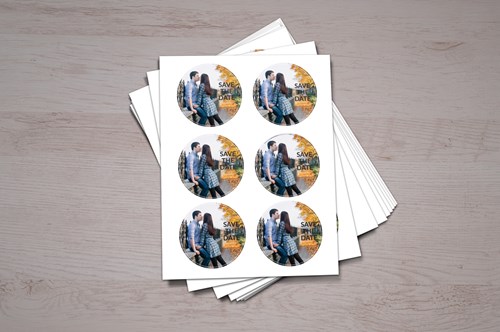 6. Retro Postcard Invites
Postcards are making a major comeback. They're cool, stylish and retro, and remind the receiver of tropical places and celebrations (and sometimes Blackpool). So turn a "wish you were here" into a "wish you would come"! These can either be the stand alone invitation or double up as an RSVP and get your guest to write down their attendance to pop back in the post.
Write down the details by hand on the back or just include all the details on the front of the postcard.
If you're going down the save-the-date route, why not upload a picture of the location onto the front of the postcard for the guest to guess the location? Just remember to include the full details on the proper invitation….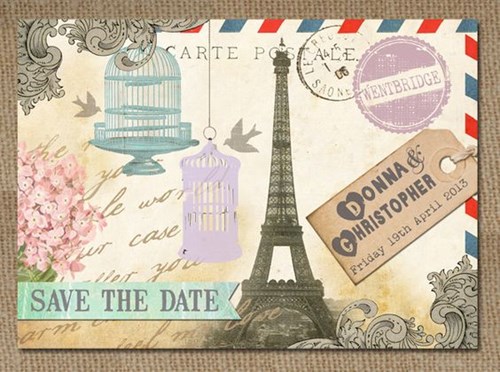 7. Balloon Invites
We love this idea! Balloons are a relatively low-cost product to buy, especially if you buy in massive quantities. Therefore, it wouldn't cost too much to have your wedding details popped onto the front of a balloon, of course, you would have to keep it as simple and short as possible.
If you have too much information, then you could have something simple on the balloon-like, 'Save the Date' and then add a small note attached to the balloon with string including your wedding day details?
If you're concerned about delivering balloon, as this could be when things become costly, consider sending the balloons unpumped and in an envelope alongside your invitation!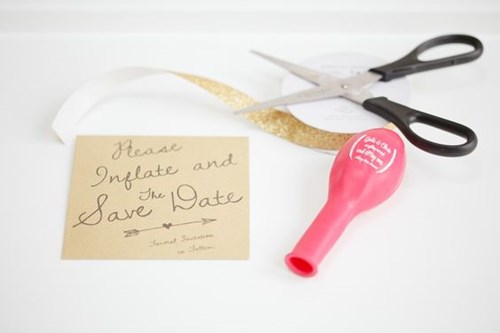 8. Napkin Invites
There's no doubt that a napkin wedding invite would be great for a low budget wedding and could add a quirky and unique touch to your theme. If you wanted to go for an authentic and almost rustic vibe, then consider buying general white napkins and simply writing on your wedding invite. You could also have your wedding information printed onto napkins if you wanted something a little more pristine.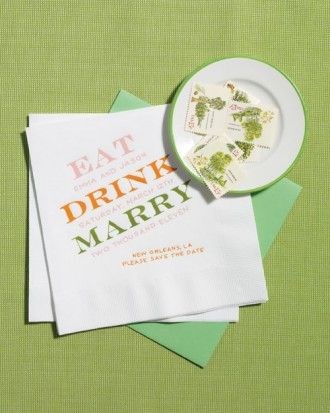 9. Storybook Invites
Is there a better fairy tale ending than living happily ever after? Invite your guests not only to your wedding but to share your story by creating a booklet narrating exactly that! And no, it doesn't have to be cheesy. Maybe you met in an unusual, embarrassing or downright entertaining way? Get your writing cap on and jot down the fun times and great times of your story so far.
Pad out the booklet with images of you both along the way and sign off with the details of when and where they can watch you start the next chapter!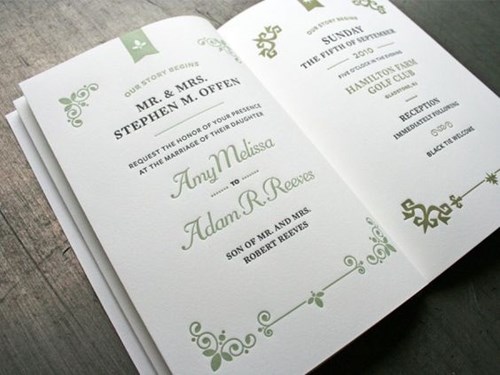 10. Present Invites
Yes yes, we know that as the happy couple, you're meant to receive the presents, but sending a small token to your guests is definitely the first step to impress them. It doesn't have to be expensive if you're creative… A little box of chocolates, a jar of sweets or whatever you want to wrap up, stick a gorgeous personalised label with all the information they need to watch you at the top of the aisle.
In the middle of organising your wedding? Download the free instantprint Wedding Planner, which includes a full 12-month wedding checklist, budgeting sheet and timeline.