Coronavirus Safety Flyers and Equipment for Working in People's Homes
This is how to ensure that you're running a Covid-secure business when you're working in other people's homes.
Choose a template
>
Pick size and material
>
Add your logo (if you wish)
>
Re-Open and Communicate Hygiene Safety with Flyers
Following lockdown lifting, employers and self-employed workers in businesses that work in other people's homes will be resuming practice. This includes face-to-face consultations, home repair businesses and builders and decorators. But how do you ensure that you're running a Covid-secure business when you're working in other people's homes?
As well as keeping to 1 metre plus social distancing in the residence you're working in, clearly communicating with households about the social distancing and hygiene safety measures you'll have in place are great ways to build customer confidence in your safety procedures. Here are a few print tools to help you do just that.
Let customers know you're back in business and outline any key changes to your service.
A5 is our most popular size
Affordable and quick advertising
Room to share your details
Free customisable template
Post locally to get the word out that you're back, add your phone number so customers can get in touch.
A1 size
Available in a range of stocks
Silk stocks are easy to recycle
Clear, bright posters & signs to grab attention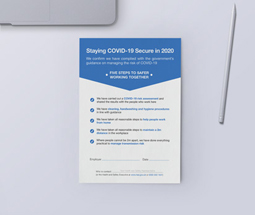 Display your risk assessment outcomes proudly and let customers know you've passed the necessary tests.
Official government notice
A3 size
Window display poster
Order as little as 1!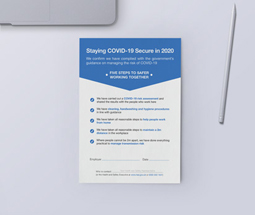 Every workplace needs to complete a COVID-19 risk assessment and display one of these posters to let visitors and staff know you are COVID-19 secure.
One needed for every business
A3 size
Choose between poster or sign stocks
Next day delivery available

Face Masks Now Available
Medical grade face masks from our sister company, Bluetree Mask Box
Find Out More
Coronavirus Protection
If feasible, you should also put up barriers at all points of regular interaction to further reduce the risk of infection for all parties involved, cleaning the barriers regularly.
One at every customer-facing counter will help your business to stay as hygienic as possible.
Lightweight /coronavirus-safety-signs/offices-and-contact-centres
Easy to wipe
Free standing shield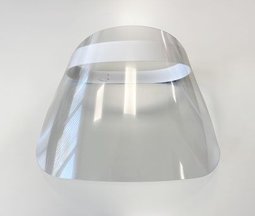 We recommend your staff wear one to protect themselves from airborne droplets.
Adjustable PVC headband
Rounded edges for maximum protection
Just wipe clean!
Same strong PVC screen with a comfortable PVC headband.
Designed for long shifts
Soft foam across the strap
Wipeable shield and foam

Video Consultation Service
Still unsure what you need to open?
Simply click our live chat button in the bottom right corner to talk to our experts.
FREE Coronavirus Designs for Your Business
Our full collection of free templates to keep your business safe during the Covid-19 pandemic. Simply download a template and upload after you've selected your product options.
View all Designs
We're Highly Rated for Print Quality