Choose a template
>
Pick size and material
>
Add your logo (if you wish)
>
Covid Safety Signs for Shops - Floor Markers & Floor Tape
Print safety signs and shop displays for supermarkets and shops to help them reopen safely as lockdown restrictions are lifted.
Re-Opening Shop Signs
Not only will you want to advertise to customers that you are back in business once you've opened, but you'll need to make sure any new collection measures are properly adhered to. Government advice states that you should use clear signage to make customers aware of any new processes in place, such as maximum number of shoppers in at a time. Running collection services will help limit footfall, as will clear signage on where to collect.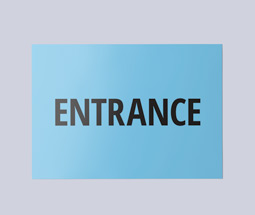 Complete your one-way system with an entrance sign poster – the quickest and easiest way to make sure you're being clear with your directional safety signage.
Available in sizes A4, A3, A2 and A1
Choose from indoor and outdoor stocks
Perfect for store entrances
Clear poster for your one-way system starting point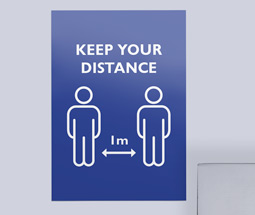 Remind customers to keep a safe distance from one another to comply with social distancing guidelines. Place posters throughout your business as a frequent reminder.
Available in sizes A4, A3, A2 and A1
Wipeable PVC or temporary silk stock
Add your logo to our template for free
Next working day delivery available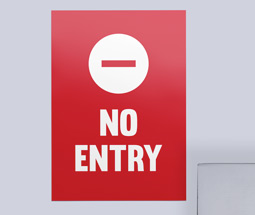 Making sure your teams only come into close proximity with one another can be a way to limit the spread of infection. Mark off working areas with these signs.
Available in sizes A4, A3, A2 and A1
Add to staff only doors or between departments
Mark off unsafe areas
Next day delivery available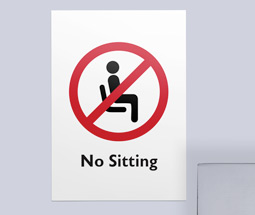 If sitting in a public area is not possible to ensure safe social distancing, use these posters to prevent people from lingering.
Available in sizes A4, A3, A2 and A1
Wipeable PVC or temporary silk stocks
Easy to attach to any surface
Next working day delivery available
Pop one up in each window to let customers know when to expect you back open.
A1 size
Available in a range of stocks
Silk stocks are easy to recycle
Clear, bright posters & signs to grab attention
Let customers know how to order by sending one to every house in your local neighbourhood.
A5 size
Show customers their options
5 quality stocks to suit your budget
Easy to mail out in the post
We recommend putting one up in each window if you are running a collection service to limit customers inside your shop.
A1 size
Free template available
Classic silk stock or wipeable PVC
Next day delivery available
Put one at every entrance at your shop to guide customers to their goods.
A1 size
Easy queue management
Choose from 4 stocks
Best for indoor signs
Email in design after purchase
Place one every 5 - 10 metres to help customers find your collection point.
Five different sizes available
Queue management floor signs
Easy to place and remove
Slip, scuff and fade resistant vinyl stickers
Limiting cash exchange will help, especially if you are using sneeze guards. Place one at every till.
A3 size
Limit the spread of germs
Affordable next-day poster printing
Available in 4 stocks
We recommend placing one every 10 metres along your queue.
A1 size graphics
Easy to change the graphics
Sturdy brushed aluminium frame
Two posters included
Social Distancing Signage
The UK government are still recommending customers to keep their distance in busy shops to help combat Coronavirus. If your Coronavirus protection advice includes social distancing, you will need:
FREE Coronavirus Designs for Your Business
Our full collection of free templates to keep your business safe during the Covid-19 pandemic. Simply download a template and upload after you've selected your product options.
View all Designs
We're Highly Rated for Print Quality