Choose a template
>
Pick size and material
>
Add your logo (if you wish)
>
Covid Safety Signage for Transport & Logistics - Social Distancing & Handwashing Posters
Keep delivery and transport staff safe and remind passengers to stay alert when travelling on public transport with safety signage and protective equipment.
Re-Opening Signage for Transport and Logistics Businesses
As more businesses open, transport and logistics businesses will become busier to get goods and people where they need to go. Here are our templates to help you comply with the latest government advice.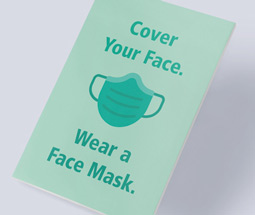 The government are still encouraging everyone to cover their face by wearing a visor or mask in busy areas. We recommend one of these inside every entrance.
A1 size
Sturdy, affordable signs
Fully recyclable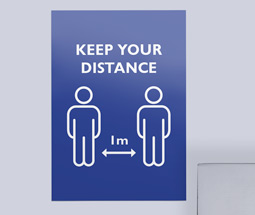 Remind customers to keep a safe distance from one another to comply with social distancing guidelines. Place posters throughout your business as a frequent reminder.
Available in sizes A4, A3, A2 and A1
Wipeable PVC or temporary silk stock
Add your logo to our template for free
Next working day delivery available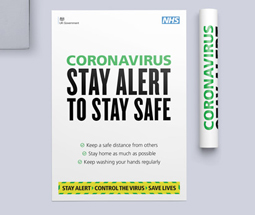 You should place one of these government issued posters by every entrance to your building to remind visitors of the latest advice.
Official government template
A3 or A1 size
Posters, Correx® by Corplex and foam signs available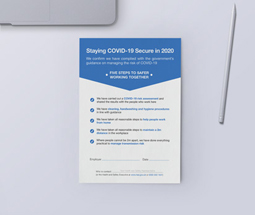 Every workplace needs to complete a COVID-19 risk assessment and display one of these posters to let visitors and staff know you are COVID-19 secure.
One needed for every business
A3 size
Choose silk stock to sign
Next day delivery available
Social Distancing Signage for Transport and Logistics Businesses
You may choose to recommend social distancing to help staff and customers feel confident when travelling. Staff and travellers should be reminded to stay at home if they are showing symptoms and if people should be encouraged to stand side by side, rather than facing each other.
FREE Coronavirus Designs for Your Business
Our full collection of free templates to keep your business safe during the Covid-19 pandemic. Simply download a template and upload after you've selected your product options.
View all Designs
We're Highly Rated for Print Quality