Choose a template
>
Pick size and material
>
Add your logo (if you wish)
>
Covid Safety Signage for Schools - Social Distancing & Handwashing Posters
Print safety essentials for schools, colleges and universities to operate safely after lockdown.
Re-Opening Signs for Schools and Education
Signs and poster templates to help you keep staff, pupils and parents safe following lockdown restrictions being lifted.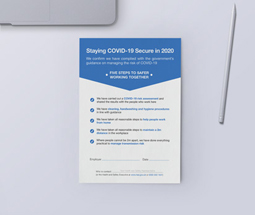 Every workplace needs to complete a COVID-19 risk assessment and display one of these posters to let visitors and staff know you are COVID-19 secure.
One needed for every school
A3 size
Choose between poster or sign stocks
Next day delivery available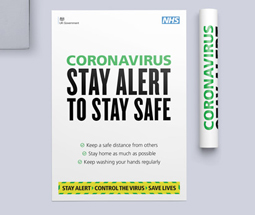 You should place one of these government issued posters by every entrance to your building to remind visitors of the latest advice.
Official government template
A3 or A1 size
Posters, Correx® by Corplex and foam signs available
Official guidance is to encourage children not to touch their face, therefore we recommend one in every classroom and canteen.
A3 size
Official NHS messaging
PVC, silk, foam and Correx® by Corplex stocks
Next day delivery available
You may choose to maintain a no visitors policy if they display symptoms of Coronavirus whilst cases are high. Place one at every external entrance.
A1 size
Printed on Correx® by Corplex board or foam
100% recyclable
Lightweight and easy to install
Social Distancing Posters for Schools and Education
To minimise the spread of coronavirus for both pupils and staff, the official recommendations advise placing the following signage throughout your site. These are specific to education settings and will help your school or childcare facility implement the standard social distancing messaging as well. Limiting class sizes, discouraging parents gathering outside and abiding by at least 1 metre distances will all be essential following lockdown.
FREE Coronavirus Designs for Your School or Education Centre
Our full collection of free templates to keep your business safe during the Covid-19 pandemic. Simply download a template and upload after you've selected your product options.
View all Designs
We're Highly Rated for Print Quality